TICKETS ON SALE NOW! Stop at the office or see a Drama Club Member to get yours today! Presenting - The Villain Took a Chip Shot or... Thar's Gold in Them Thar Greens- Thursday, April 28th or Friday, April 29th! $15 tickets include dinner and entertainment.

REMINDER! The Weldon Valley Drama Club members are selling tickets for the performance April 28 and 29, "The Villain Took a Chip Shot." Contact the school, Mrs. Schnabel, or a Drama Club member for tickets. The Sophomore Class will be serving supper with the play Thursday evening. The Junior Class will be serving supper as well on Friday evening. Come support our Weldon Valley students as they entertain you with laughs and serve you a delightful meal. Call (970) 645-2411 (school) or (970) 768-9937 (Mrs. Schnabel) for tickets. * Produced by special arrangement with Pioneer Drama Service, Inc., Denver, CO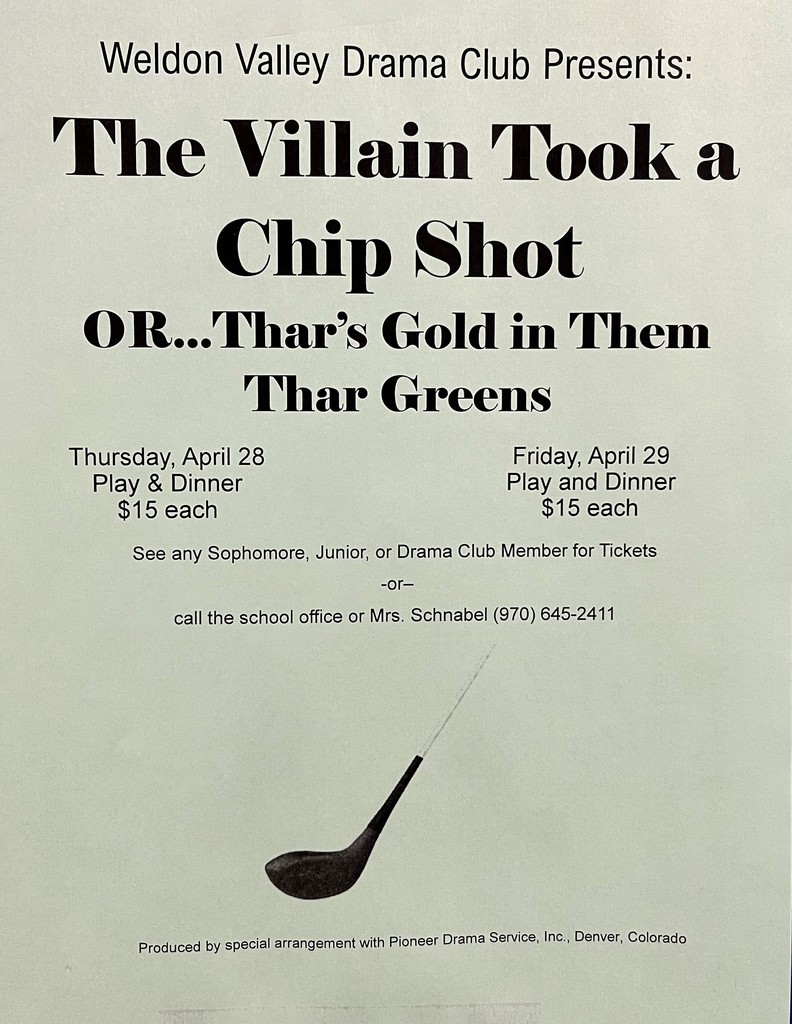 It's Spirit Week in the Valley! Monday- Movie Star Day! (Dress as your favorite movie star!) Tuesday- Meme Day! (Dress as your favorite meme!) Wednesday- Throwback Day! (Dress up as your younger self!) Thursday- Senior Citizen Day (Dress as a senior citizen!)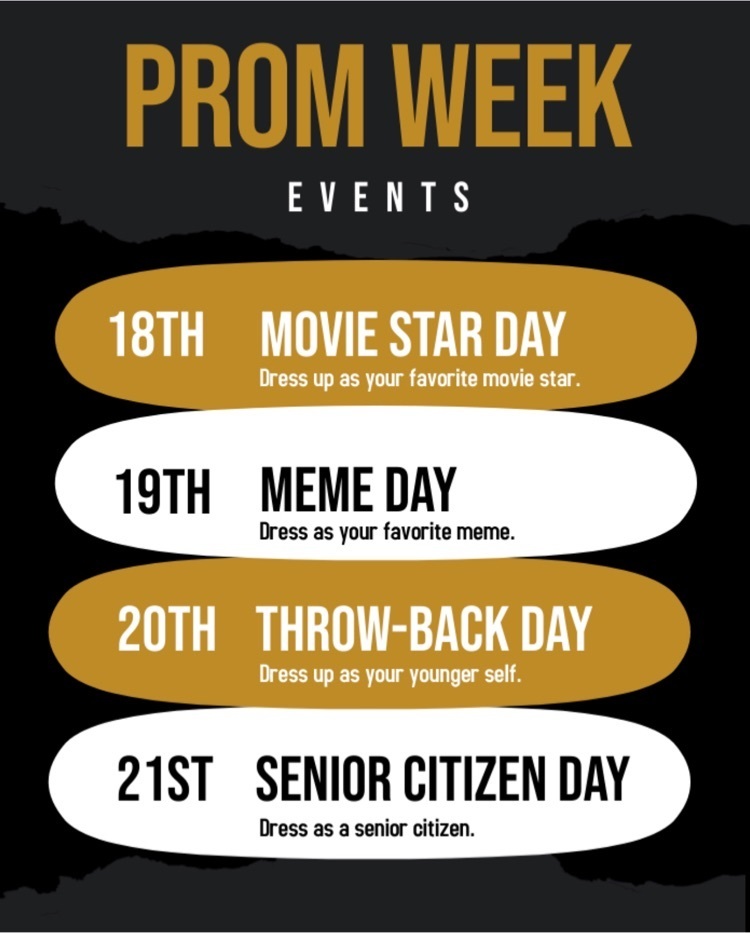 Thank you wind!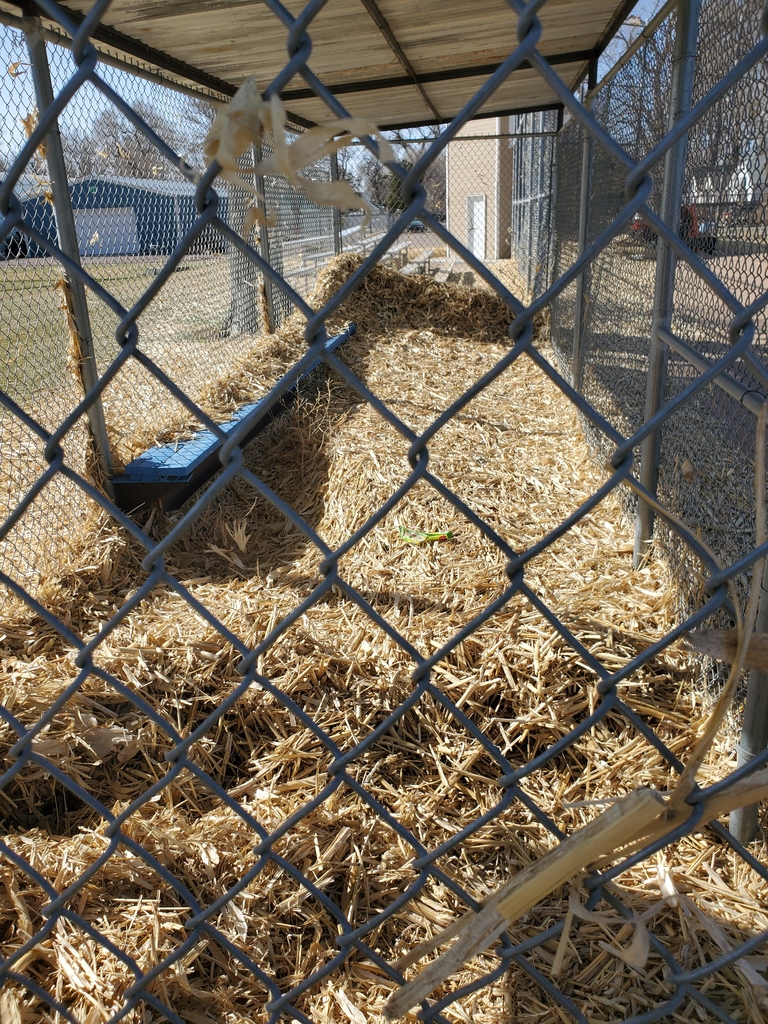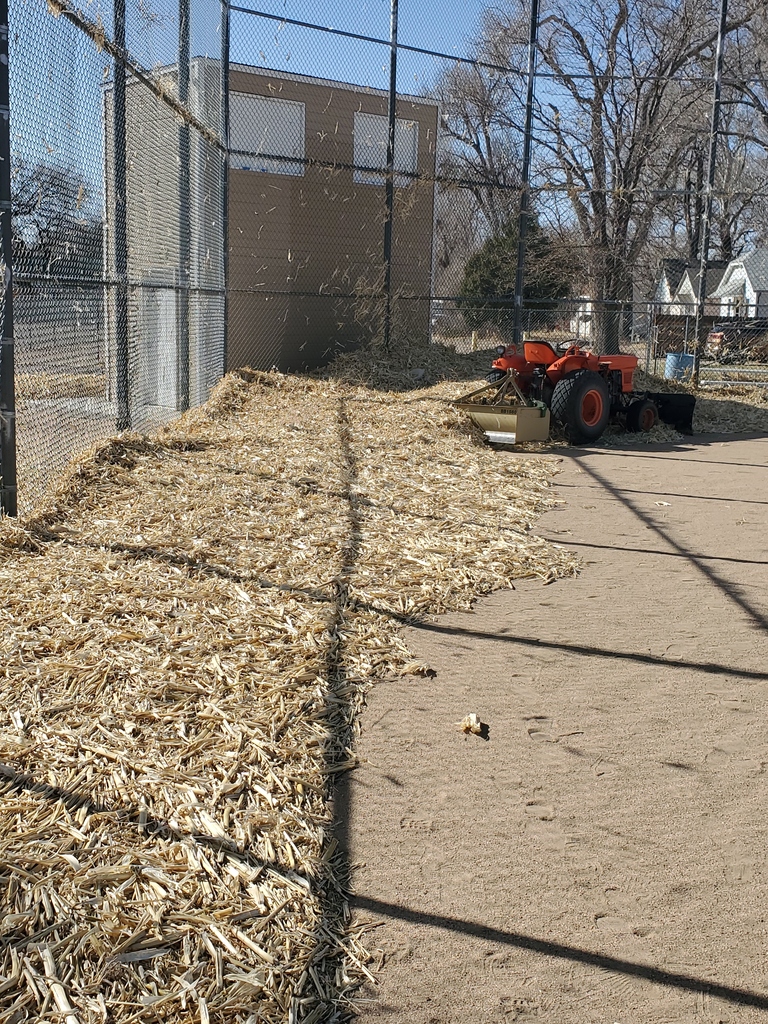 A BIG THANKS to Hope Baessler, Aeriel Mese, Piper Scott, and Kylee Nelson--members of Weldon Valley's National Honor Society--for helping to decorate for the Night to Shine nonprofit. This nonprofit "provides a night for developmentally disabled adults in Morgan, Washington, and Yuma counties a night to go to a Prom. Everyone is crowned a king or queen at the end of the night." The young ladies gave up part of their weekend, helping the nonprofit committee decorate for the evening's festivities. We are proud of our considerate volunteers for helping make this event special for others in our community.
The 5th & 6th grade Weldon Valley Brain Bowl Team entered the Sunrise Optimist Brain Bowl competition today! They did fantastic! Congratulations Warriors! "Think First. Buzz Fast!"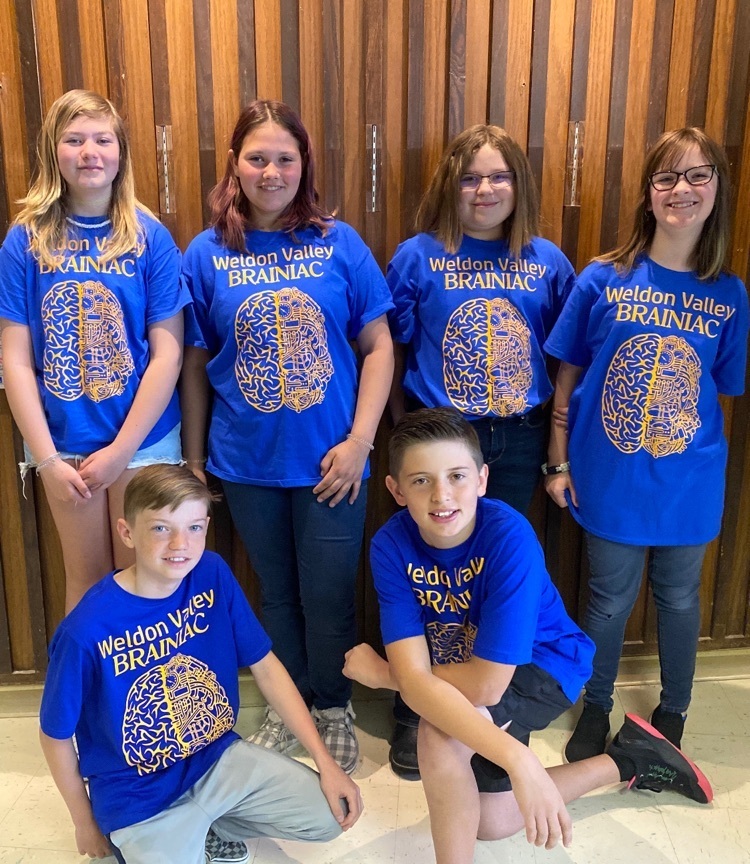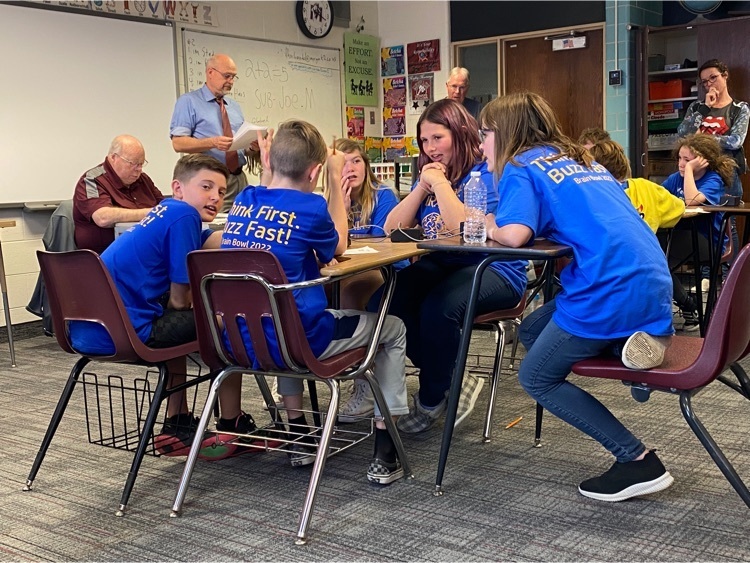 Hello Warrior Families- It's testing season, and a GREAT chance for our Warrior students to show how much they have learned this year!! In the next two weeks, our Juniors, Sophomores, and Freshman will show what they know on the SAT, PSAT10, and PSAT8/9. SAT-Wednesday, April 13; PSAT10-Thursday, April 14th; PSAT 8/9-Monday, April 18th. Starting Tuesday, April 19th-Thursday, April 21st, students in grades 3-8 will be showing off their Math and ELA skills on CMAS Math and ELA tests. The following week students in grades 5, 8, and 11 will show their Science knowledge on the CMAS Science test. Please see the attached letter that shares information, tips, and dates regarding CMAS testing. Happy Testing, and Go Warriors!
https://5il.co/18gi5
Due to windy/unsafe traveling conditions, the 4th & 5th grade trip to Rural Ameritowne is canceled for April 7. Another date will be announced soon.

There are a few schedule changes for sports over the next couple weeks. Please see the current sports schedules on the homepage. The changes are: JH Track Fleming Meet in Brush moved to Monday 4-11. Baseball vs Caliche on 4/12 is now at 2 PM and is a doubleheader. Baseball added a game on 4/22 at Briggsdale, we will play one game vs Briggsdale at 11 AM and one with Sedgwick County at 1 PM. We added a baseball game at Wiggins JV on 4/27 at 4 PM and a game at Prairie on 4/29 at 10 AM.

Dear Parents of current 5-7th graders and any other interested students and staff, I am very excited to announce that I will be leading a group of students and parents on an educational tour to Washington, D.C., Mt. Vernon and New York City on May 31 - June 4, 2023. Join us on: Tuesday, April 5th - 6:00pm via Livestream for a short informational meeting where each traveler will be eligible for an Early Bird Scholarship of $300! To join the meeting, simply click this link:
https://schooltrip.us/WeldonCO23
To RSVP, click here:
https://forms.gle/EmPHf5PqM6DemUUr9
Check out this awesome video and see for yourself why we're so excited about this opportunity for our school, and click here for additional information on the meeting, itinerary, scholarship and more! For any other questions, feel free to email me at:
mschmeeckle@weldonvalley.org

WVS Sophomores (and a few juniors)- A friendly reminder that tomorrow, April 5th at 7:45 am you will take the Accuplacer. Please meet me in HS commons area after the second bell. Have a great week! Mrs. Chisum

HAPPY BIRTHDAY Mrs. Payne. Some staff members surprised Mrs Payne with a drive-by Birthday Wish. We hope you had a wonderful day. We miss you Mrs. Payne.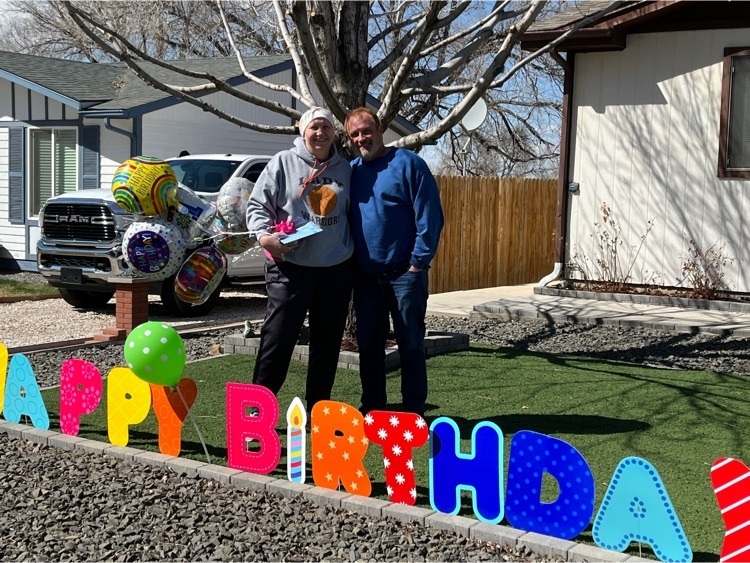 Weldon Valley's Floriculture team practiced their floral designs today with Mrs. Starner, to get ready for their Regional District Judging Contest at NJC next week! They did a fabulous job!! A HUGE THANK YOU to The Flower Petaler for donating all of the supplies needed to be sure the girls were ready to go!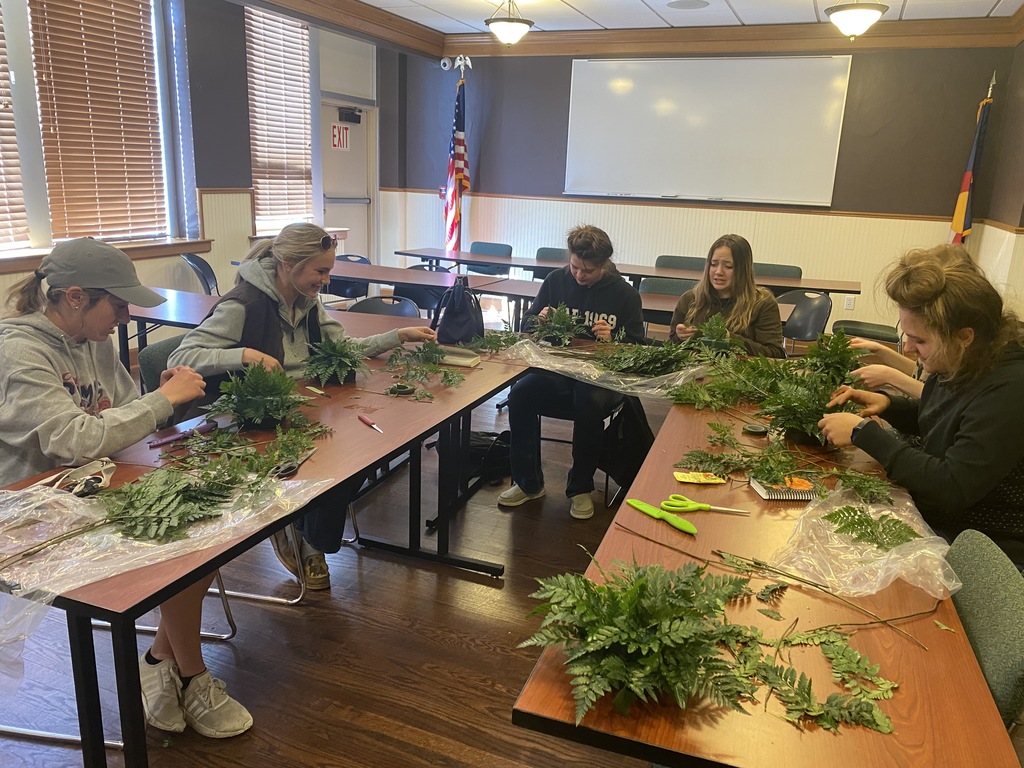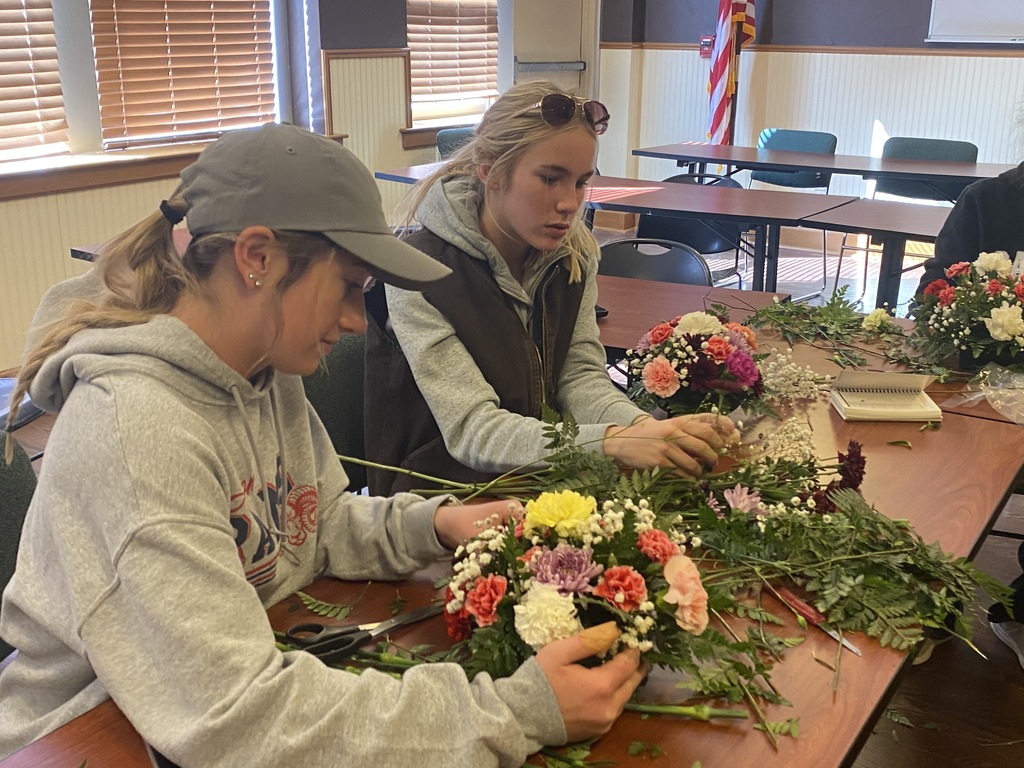 TICKETS ON SALE NOW! The Weldon Valley Drama Club Presents: The Villain Took a Chip Shot or... Thar's Gold in Them Thar Greens! Tickets are $15 each which includes Dinner and Entertainment! Thursday April 28th and Friday April 29th. Stop by the office to purchase yours today!

For the Junior High Track Meet tomorrow at Brush High School students will need to their jersey and black shorts, layered clothing, sunscreen and pack a lunch and bring water. The bus will leave at 8:45 and return to the school at approximately 3:30. Below is the schedule of events for the day. Meet will start at 10 am. Field Events: Boys Shot, Girls Discus, Boys High Jump, Girls Long Jump, Boys Triple Jump, followed by the reversal of these events (by gender) upon completion. 100 M Hurdles (G) 110 M Hurdles (B) 800 M Sprint Medley (G) 800 M Sprint Medley (B) 100 M Dash (G) 100 M Dash (B) 4 x 200 M Relay (G) 4 X 200 M Relay (B) 1600 M Run (G) 1600 m Run (B) 4 X 100 M Relay (G) 4 x 100 M Relay (B) 400 M Run (G) 400 M Run (B) 200 M Dash (G) 200 m Dash (B) 800 M Run (G) 800 M Run (B) 4 X 400 M Relay (G) 4 x 400 M Relay (B)
Just a reminder: Class Pictures & Spring Photos are next Tuesday, April 5th! Student's brought home order forms last week! You can also order by hopping on line at mylifetouch.com with the code EVTMJDCGV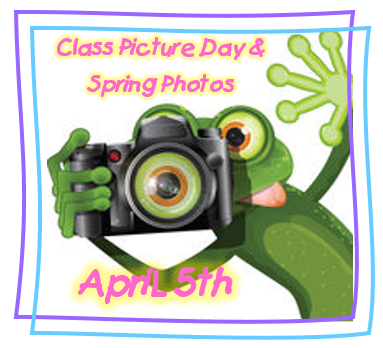 Craft and Vendor Market here at school today from 9 am to 3 pm. Enjoye the inflatable bouncy houses and shop for Mother's Day and Easter gifts.

More pictures of High School Students and Elementary Students at Recess