Hello Warriors! There will be no Friday Fun Club this week. We will see you all next week- April 23rd for FFC. Watch our Live feed and Facebook page for more details soon!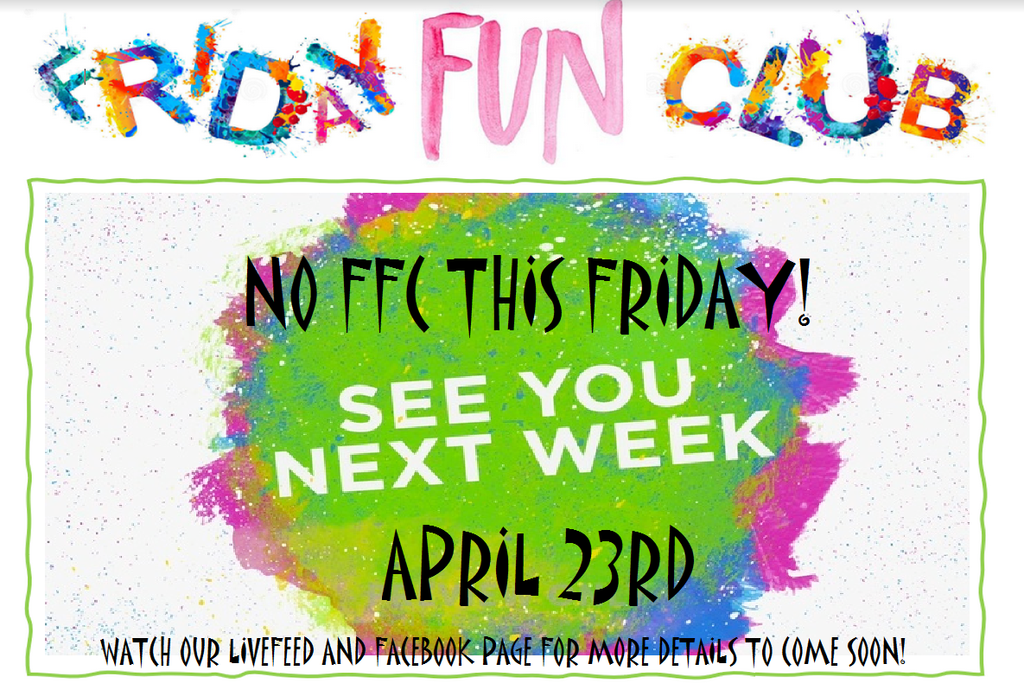 A big "Thank You" to the Morgan County Sheriff Department for their help with our After Prom! Kelvin Bernhardt dedicated his time and Deputy Del Campo and Deputy Thomas helped patrol the school to protect our students. They even played a few games with the students! We are proud to have these caring people take a few moments to support Weldon Valley School District. Thank you for all you do!
Tickets on sale NOW! Weldon Valley Drama Club Presents: Here Come the Cows! Saturday- April 24th at 6pm - Dinner and Performance! $15. Or come on Sunday- April 25th at 4pm- Performance and Dessert Bar! $10 See any Junior or Drama Club Member, or stop by the office to purchase your tickets today!!!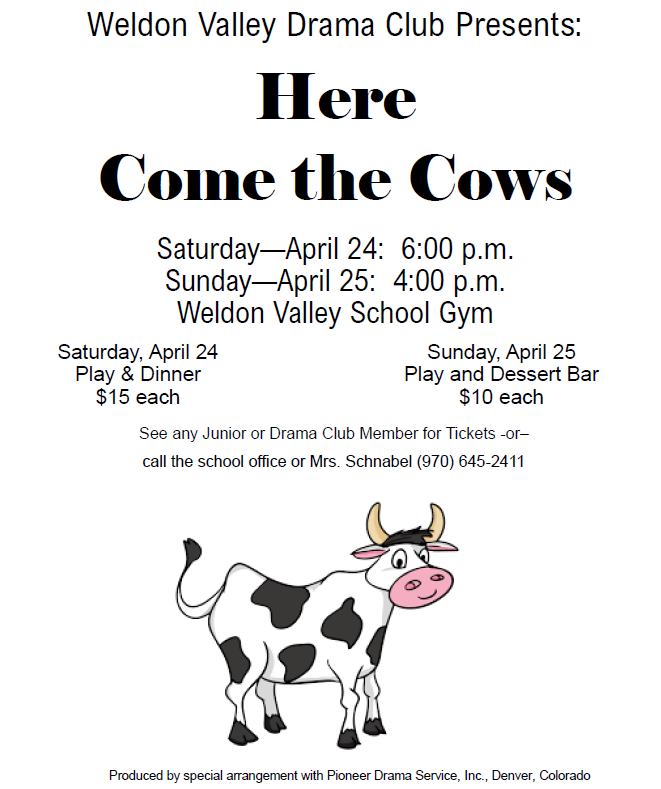 The Junior High volleyball games tomorrow at Fort Morgan begin at 4 pm. They will charge $5 for adults and $3 for kids. B team will play first followed by A team. We do not need a gate list for this game, everyone is welcome. They ask that you wear a mask as you com into the building until you reach your seat in the gym. Also, Lone Star asked if we would play one additional game with them. Junior High will now play at Lone Star on Thursday at 4. High School games will follow.

The Junior High Volleyball games tomorrow vs Wiggins will begin at 3pm. B-Team will play first followed by the A-Team

A friendly reminder from Mr. Petterson- if you have younger students who are attending the Weldon Valley after school games (to watch their older siblings) they MUST be accompanied by an adult before they can enter the gymnasium. Thank you for your support and understanding! Go Warriors!

Brush is allowing each athlete to have 3 people attend the Junior High games tomorrow. There will be a sign in sheet as you come into the school to sign up as you go. They are also charging $4 for adults and $3 for kids. B-Team plays at 4 and A to follow.
FFC- What's that stand for? You got it!! FRiDaY FuN cLuB!! This Friday April 9th from 9-10am, on the Weldon Valley Baseball Diamond, for a KiCkInG fun time! All students grade K-12 are invited to learn, play, and enjoy a friendly game of KickBall! See you FRiDaY!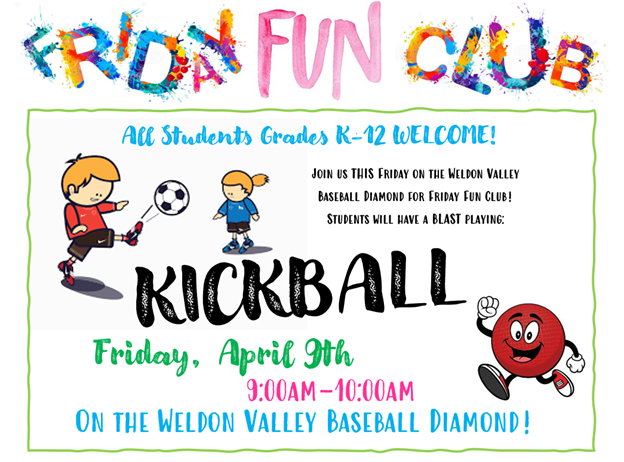 Friday Fun Club was a blast had by all! TieDyed Bunnies and and an Easter Egg hunt was the perfect way to spend the morning! Watch the website and Facebook page for more information for this weeks FFC! All students grades K-12 welcome! 😃 Hope to see you this Friday!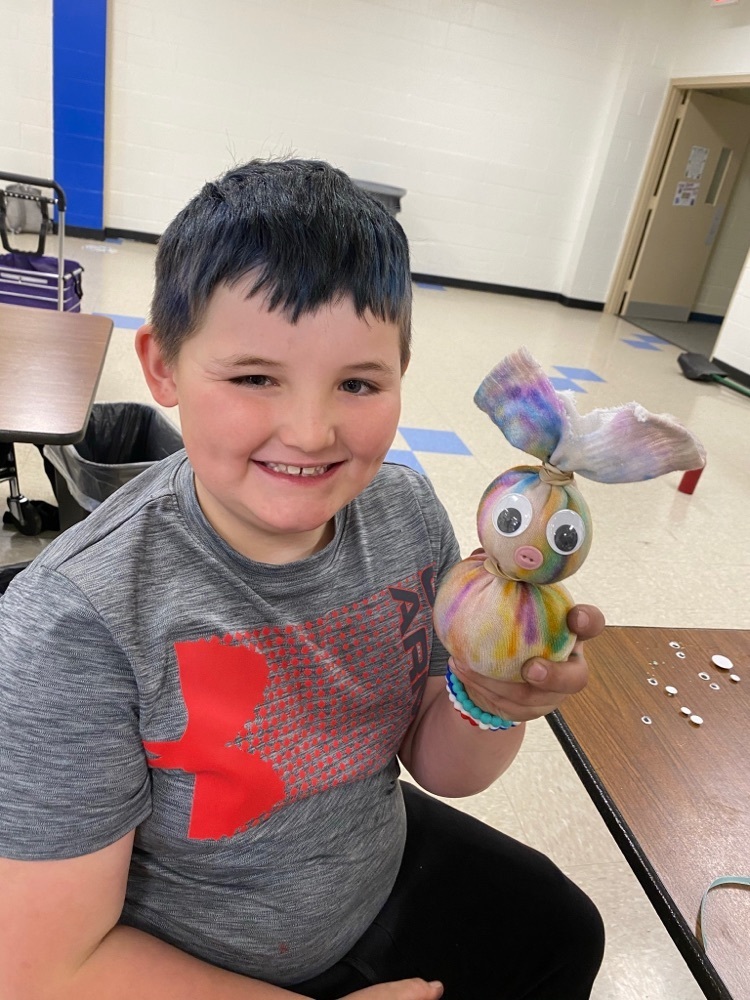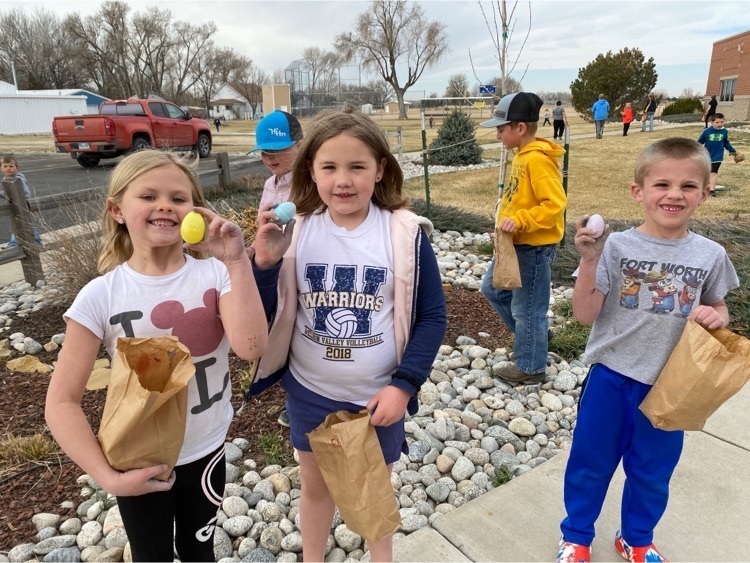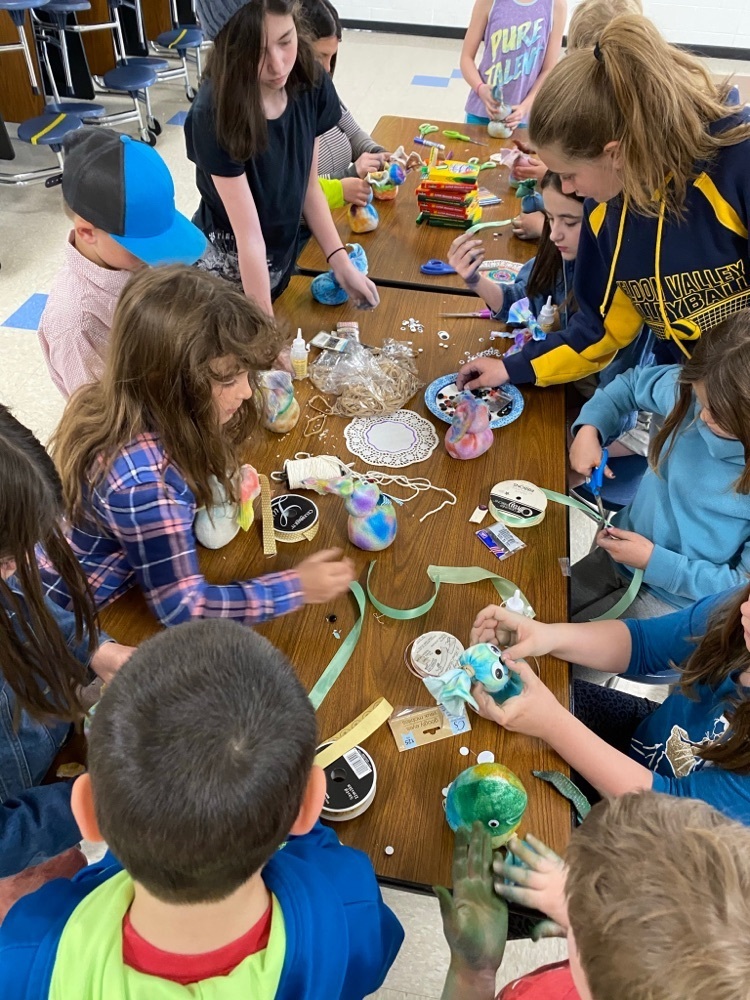 Happy April Warrior Nation! We have a busy busy month ahead! Prom, testing, dinner theatre, concerts, and more!!! Click here -->
https://5il.co/r7zb
to get in on the know all! :)
💛🏐💙Reminder💙🏐💛 There will be Junior High and High school volleyball team pictures on Monday the 5th. Please remember to bring your uniforms! 💙🏐💛Reminder💛🏐💙


Hey Warrior Family! Check out this article from the Fort Morgan Times that highlights a FREE tutoring service offered by the founder of Khan Academy.
https://www.fortmorgantimes.com/2021/03/28/free-virtual-tutoring-schoolhouse-world/
Khan Academy is a favorite of many educators and offers some amazing online tutorials. Now they are offering FREE tutoring through Schoolhouse.world. It looks like right now it is geared towards high school students, but they are working on expanding! Have a wonderful weekend! Mrs. Chisum

Friday Fun Club- This Friday 9am-10:30 in the Weldon Valley Cafeteria! All Students grade K-12 welcome! (Please note, kindergarteners are invited to join in on the fun!)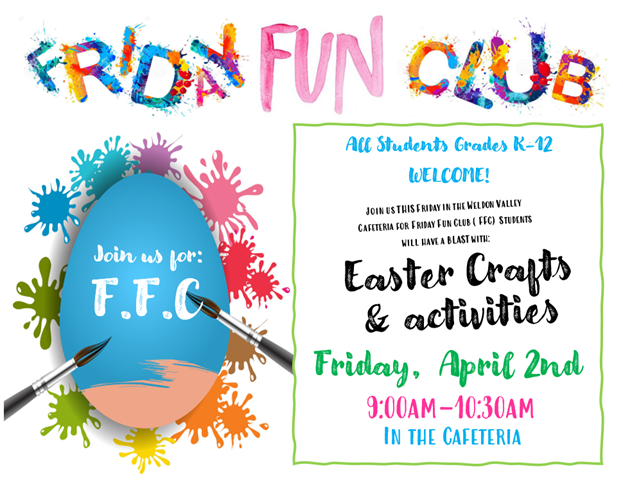 Hello Warriors! Kids At Their Best is hiring for this summer! This a great summer program for children with sites in Wiggins and Log Lane Village. If you are interested, please follow these directions: Go to: kidsattheirbest.org PROGRAMS CAREER & EMPLOYMENT Scroll down Under JOB OPPORTUNITIES (black) Click on KATB JOBS (blue) That will take you to KATB JOBS Click on the black button that says "apply for KATB jobs". They hire kids as young as 14 years old. If you have any questions, please contact: Jodi Walker Executive Director-KATB 970-380-7721

Please let me know if you are interested in filling out the 2021 Application for CARES Act Assistance. This Grant will give one free laptop per family if you meet the household income guidelines and turn in all the appropriate paperwork. You can apply again this year even if you applied for the last grant. If you have any questions or would like me to send you an application please contact me at
kdunn@weldonvalley.org
, 970-645-2411 or stop by the front office.
Join us for Friday Fun Club! - This Friday, April 2nd from 9am-10:30am. We will be meeting in the Weldon Valley cafeteria to make Easter Crafts and join in on other Easter activities. All students grades 1-12 are welcome! Hope to see you there!