Congratulations to Weldon Valleys 2022-23 Homecoming King & Queen: Jayden Felts & Aeriel Mese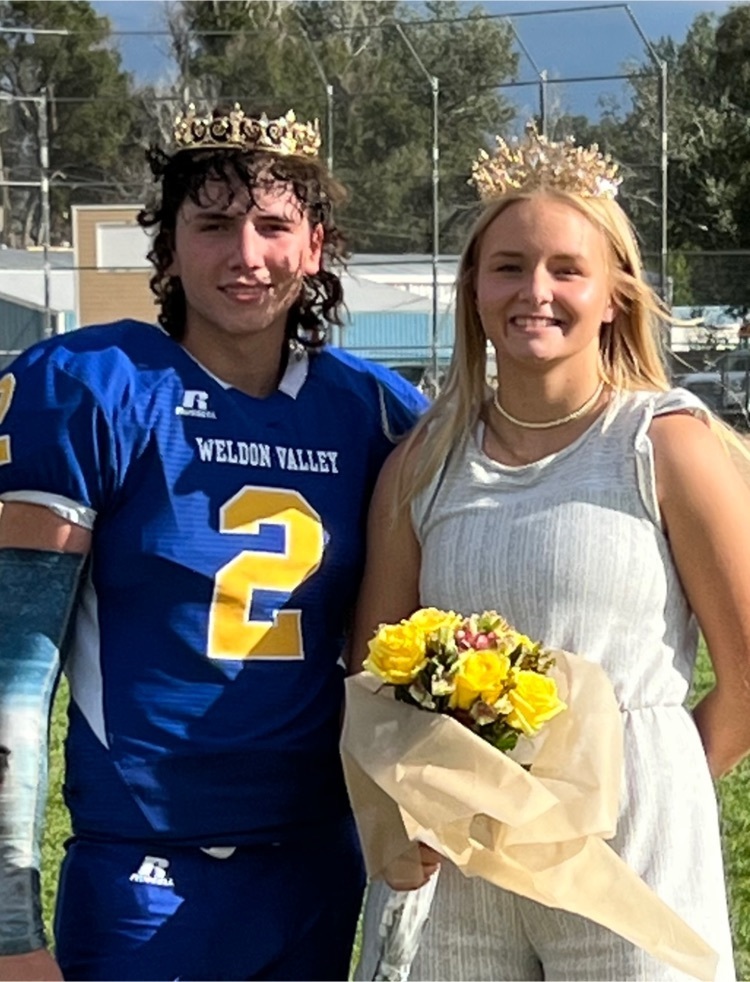 For Homecoming we are offering our very first tailgating opportunity for all our Warrior Fans! Our parking lot will be open on Friday at 12:45 PM for all of you. The junior class will be selling burgers, chips, and pop for $10 per person. Feel free to bring outdoor games and get ready to cheer our Warrior teams on to battle. The cost of the admission is all it takes to get into the parking lot (food is extra.) No alcohol is allowed!
Presenting our 2022-23 Homecoming Royalty Candidates: From left to right: Blake Covelli, Alex Bolding, William Alloway, Jayden Felts, Nick Abelson Front row: Courtney McFarland, Kena Harpel, Piper Scott, Aeriel Mese - Our King and Queen will be crowned during half time, at this Friday's football game against the Fleming Wildcats, starting at 3:00pm. Our Lady Warriors will hit the courts at 5:30 against the Flagler Panthers! We hope you can all come out and enjoy the festivities! GO WARRIORS!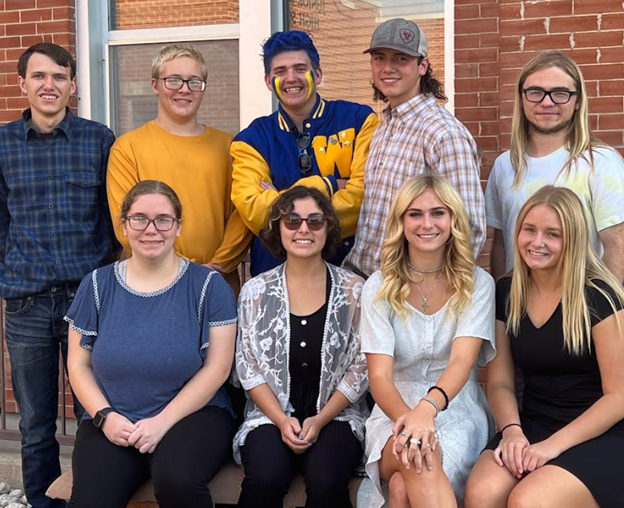 Good morning Weldon Valley Community! We are excited to announce the plans for our upcoming international trip. In June of 2024 we will be traveling to England and France. Our trip will include stops at the Louvre, Versailles, The Eiffel Tower, Normandy, and many more attractions of London and Paris. Our trip will be right after the 80th anniversary of D-Day and a month before the Summer Olympics in Paris. Check out the attached detailed itinerary for additional information. Everyone is invited including parents, teachers, and community members. Feel free to reach out with any questions.
https://secure.passports.com/document/225ECACAACD2/

Good Afternoon, We hope that everyone is having a great week and that the students are enjoying all of the homecoming activities. I wanted to fill everyone in on a few changes that have been made this week. On Monday, we were made aware that Flagler would not have enough players available to play a football game on Friday. We have been working to find an option to be able to have a football game for our athletes and for the community. I have contacted numerous schools looking for an option that would allow the football team to have a game. Fleming has agreed to play us in a JV/Varsity game on Friday at 3:00 pm. They also play Peetz this week but were excited for the chance to bring a team and help us have a homecoming Football game. I want to thank their coach, Jon King, for helping us have a game this week. We will receive a forfeit from Flagler but still have the opportunity for the kids to have a homecoming game. The times of all events on Friday will remain as scheduled with the Community Tailgate set to begin at 1:00. Football will begin at 3:00 pm with the homecoming royalty to be crowned at halftime. JV Volleyball will begin at 5:30 and Varsity will follow. We look forward to a great day for the community and all Warriors past and present. Please let me know if you have any questions or concerns. Thank You
October's Breakfast and Lunch Menu is hot off the press! Click this link to check it out!
https://5il.co/1imnd

Weldon Valley PTO will announcing their fundraiser campaign on October 3rd! K-6 will have a quick assembly at 8:00 AM in the gym followed by secondary students during their advisory period. If you have any questions please reach out to the PTO.

High schoolers! Grades 9, 10, 11, 12. Join us at 9:30am to "Paint the Streets" to kick of this years homecoming activities! Winning class earns a pizza party! See you soon!

We are a month away from our WV Craft & Vendor Market on October 22nd from 8:30 am to 4:30 pm. Come shop for your early Christmas presents or just for youself!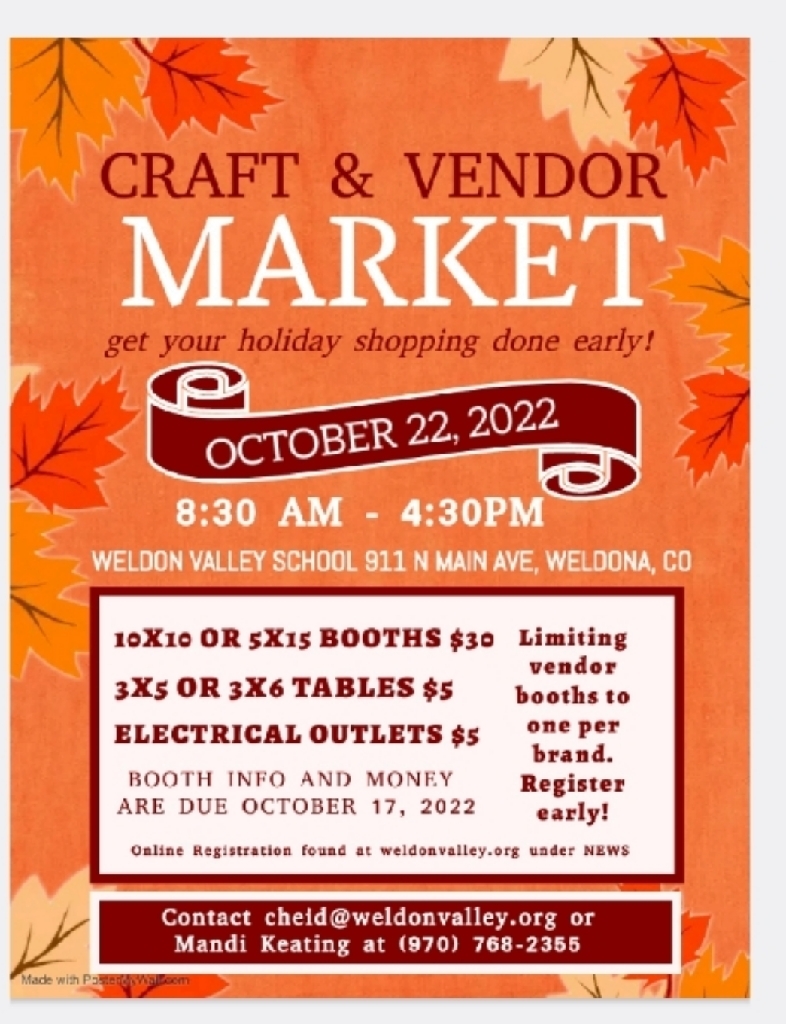 High Schoolers! Grades 9-12. Come out and help decorate the streets for Homecoming this Sunday at 9:30am! Winning class will earn a Pizza Party! Bring your creative ideas! (again, this is only for grades 9-12.)

Good morning Weldon Valley community! Very soon we'll be making an announcement about the next great International trip scheduled for June of 2024. Everyone is invited including community members. Look for more information in the coming days. God Save the King! And bon voyage

WVS Juniors and Seniors- Don't forget to email Mrs. Chisum to let her know if you want to attend the College Fair at Fort Morgan High School on Monday, October 3rd from 9:00 am to 10:00 am. College recruiters from all over Colorado and other states will be available to answer questions about their schools. It's a great chance to check out lots of schools and see what they have to offer. Happy Monday! Mrs. Chisum
Let me introduce to you our Business Manager, Mrs. Krista Dunn. You can find her friendly face up in the office taking care of everything Weldon Valley business related! Mrs. Dunn loves adventure and chocolate! Find out more about her below!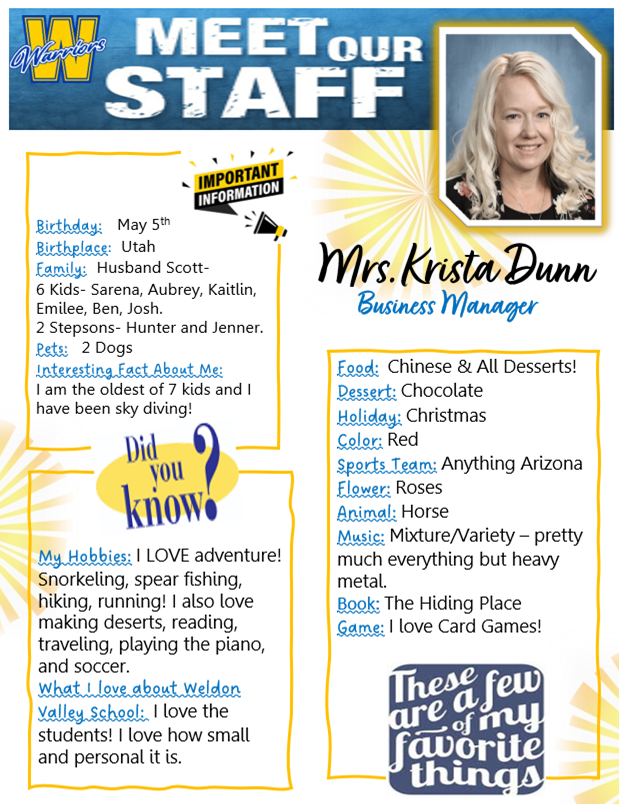 I wanted to make everyone aware of a few schedule changes for the coming weeks.  First of all, we have added C team games to the high school matches next week.  C team will play Merino at 4 pm on Thursday and will play Prairie at 4:30 on Friday.  The JV and Varsity games will follow each night.  We have also had to move the Otis game to October 27th at 5pm to avoid conflicts with Parent/Teacher conferences the week of Oct. 11th.  The changes have been added to the schedule on the website.  Also, here is the link to stream the tournament games in Brush this weekend.  
https://www.youtube.com/channel/UC-wGqXhGzw9iOTpqwVK7qkg
We are pleased to start introducing you to our Warrior Staff! We hope to bring you a new staff Warrior face each week! First up- Mrs. Sandi Vanek! Sandi is our school Nurse as well as a Para in the first grade classroom! Check out her "Meet" page to learn more fun things about her!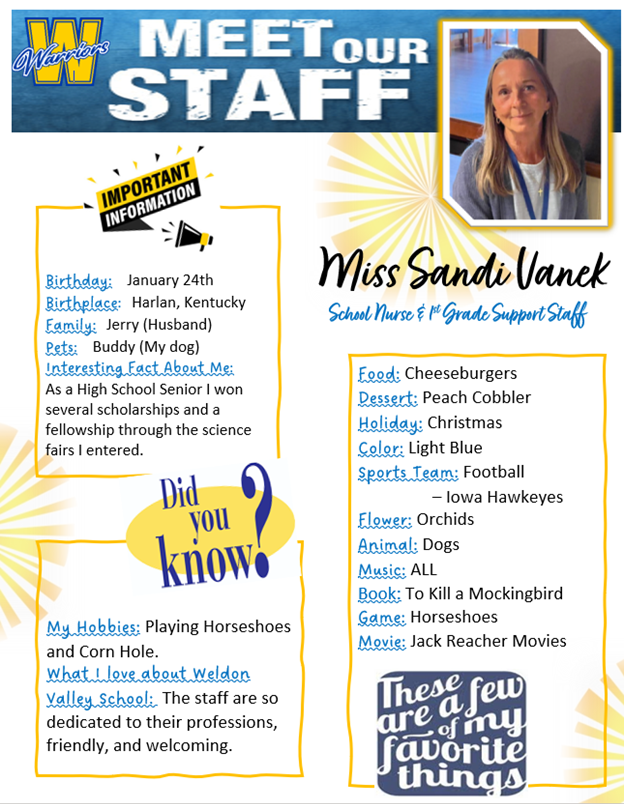 🏀🏀 Basketball information will be coming home this week! This is for a Rec League and the information is below, and on the green paper headed home. Please see Mrs.Arndt if you have any questions!