The Junior High Basketball games at Fleming that were scheduled for Thursday have been moved to Monday, November 21st at 4:00 pm.
Weldon Valley School District would like to thank the community for the overwhelming support in passing the school bond this 2022 election! We are proud to report 71% of all votes were in favor! Now on to phase two!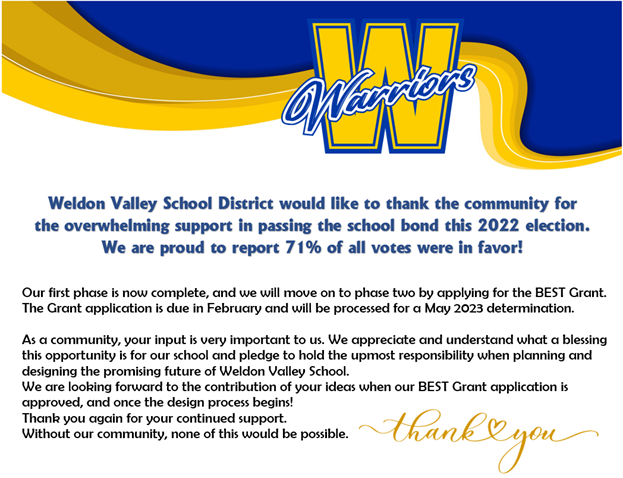 Mark your calendars!!! Kids Night Out is sponsored by the 6th Grade class. If you would like to buy tickets, please contact Mrs. Arndt, or a 6th grade student.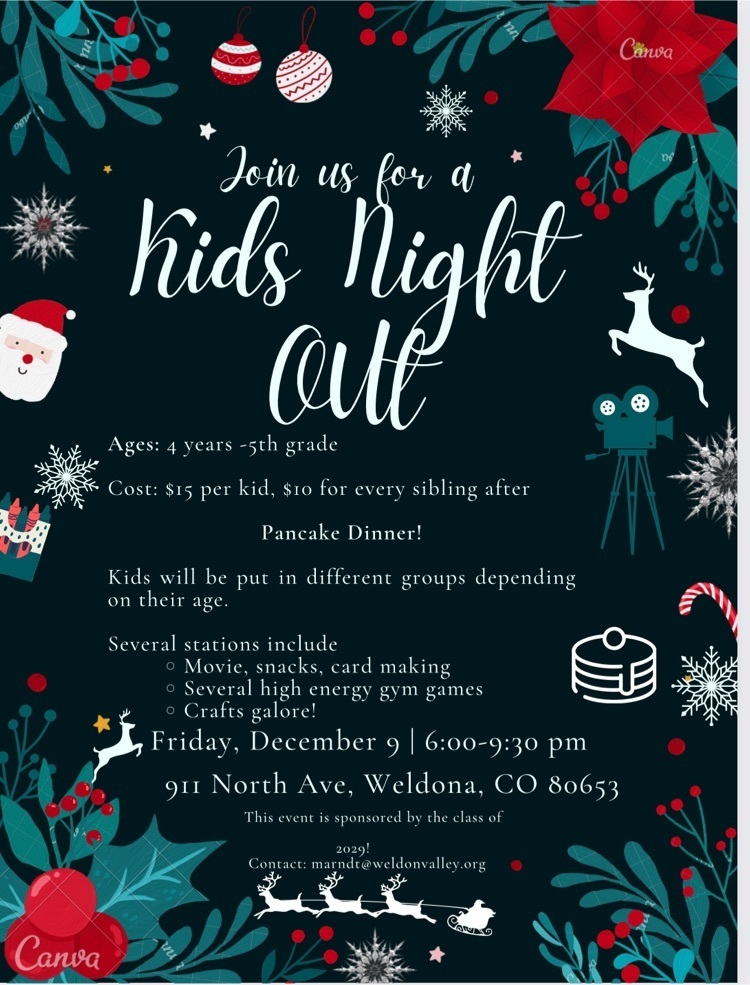 Good Evening, The basketball teams are participating in a fan cloth order as a fundraiser. This is the same company that the football team used this fall. We are doing a short, quick campaign of Warrior gear. The store closes this Friday, the 11th and the company has guaranteed shipping in time for Christmas. Below is the link, you can order all the Warrior gear you will need to get through the year! Please let us know if you have any questions.
https://fancloth.shop/FWPBG


Good Afternoon, Here is the link to the Itinerary for this week's trip to McClave.  I have included addresses as well as the telephone number to the Days Inn Hotel in Lamar.  Please read through the information and let me know if you have any questions or concerns.  We will also be having a pep rally/send-off for the girls Thursday morning beginning at 10:20.  Parents are welcome to attend.  Thanks!  
https://docs.google.com/document/d/1aNTPKNtktCD1tI2eNfOpD6Q255pNCn2EkSnuSrF3axA/edit?usp=sharing

November 1st is our kick off day for the 2023 National History Day competition. Junior High students will be competing this year at the regionals at The University of Northern Colorado in April. Local projects will be due in February. The 2023 theme is Frontiers in History and Weldon Valley students will be composing papers that explore this theme. In the three years Weldon Valley has competed at regionals, we have sent eight students to the state competition. Our junior high students will be working hard on this project and we know they'll do great once again in 2023.
https://www.unco.edu/history-day/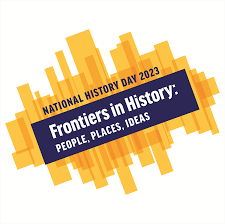 Regional Volleyball will be played in McClave. First game will be at noon on Friday. The girls will get out of school at 11am Thursday and we will stay the night in Lamar. I will be sending out more details and a trip itinerary tomorrow. Let's have a great week ladies!
Halloween Festivities will begin today at 2:45pm with a costume parade in the gym!
Warriors of the Month, along with PTO Fundraising awards will be handed out during an assembly tomorrow! Grades K-6 at 8am and students in grades 7-12 at 9:40.
Many of you have reached out asking how to help our Warrior Kathy Shaver who lost her husband tragically over the weekend. Due to fire and smoke damage, Kathy also lost current access to her home and belongings. Monetary donations are being accepted at the school to help Kathy during this heart-breaking time. If you wish to donate, please makes checks payable to WVS. You may drop cash or checks off at the main office or send them to 911 North Ave, Weldona Co 80653. Attn Lacey.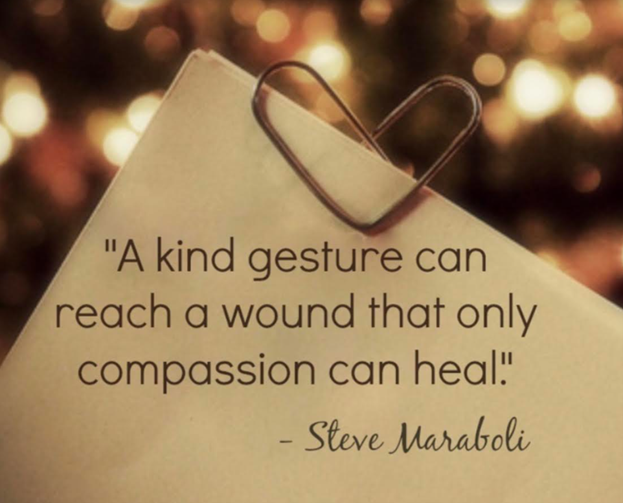 Picture Retake day is Tomorrow- October 25th!
Meet Mrs. Fleming; Weldon Valley's 3rd grade teacher. She loves her sports and was nominated for Colorado's teacher of the year award in 2004! Check out her poster to learn more about her!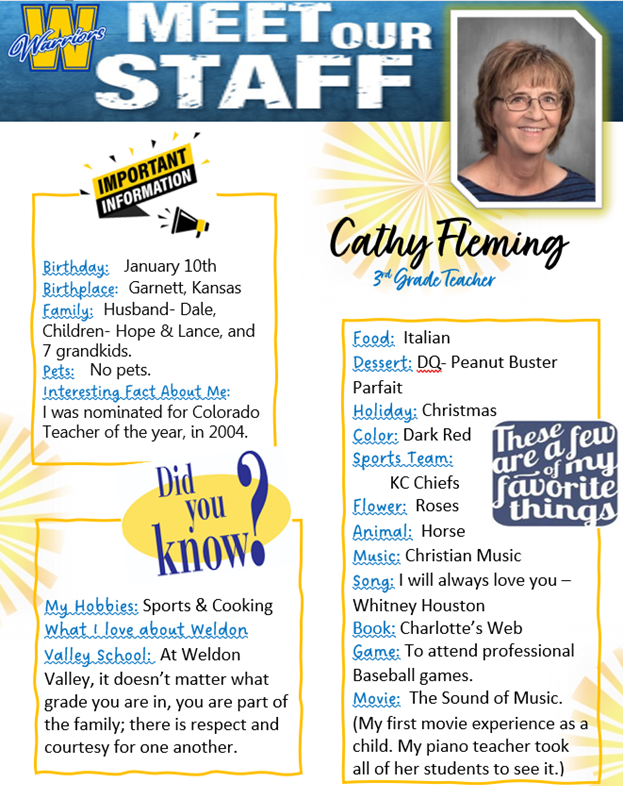 We have jumpy houses for the kids to play in today! Come and enjoy the beautiful weather!!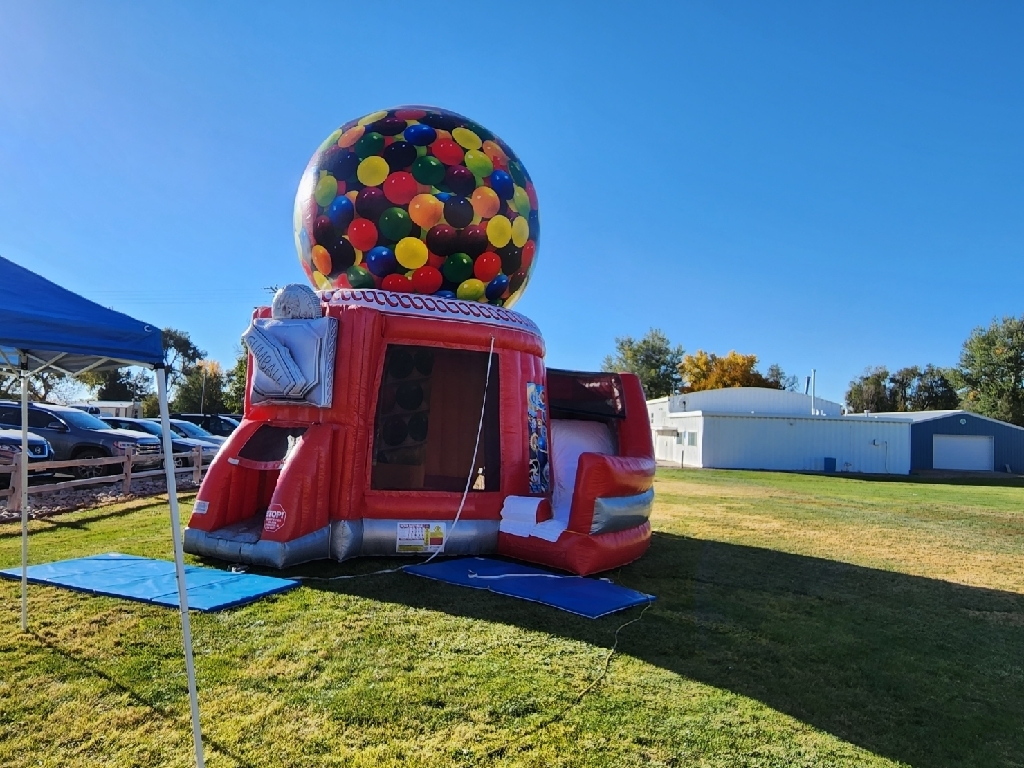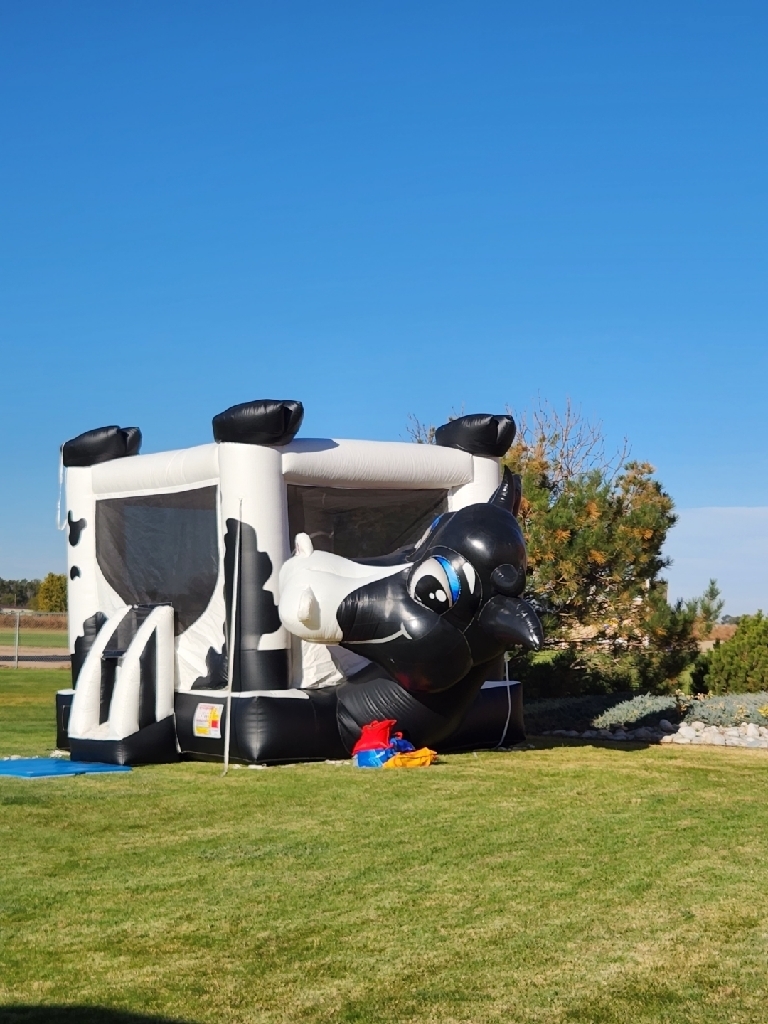 Come down to WV School and see all the Vendors who are set up! See all the wonderful holiday gifts and craft items.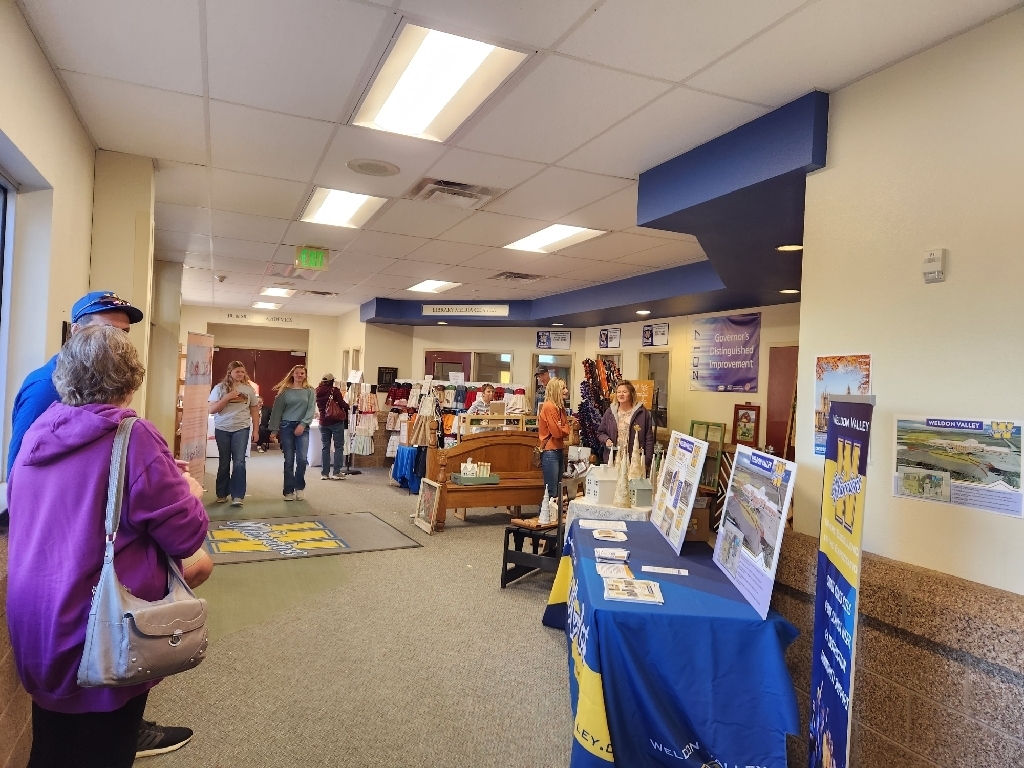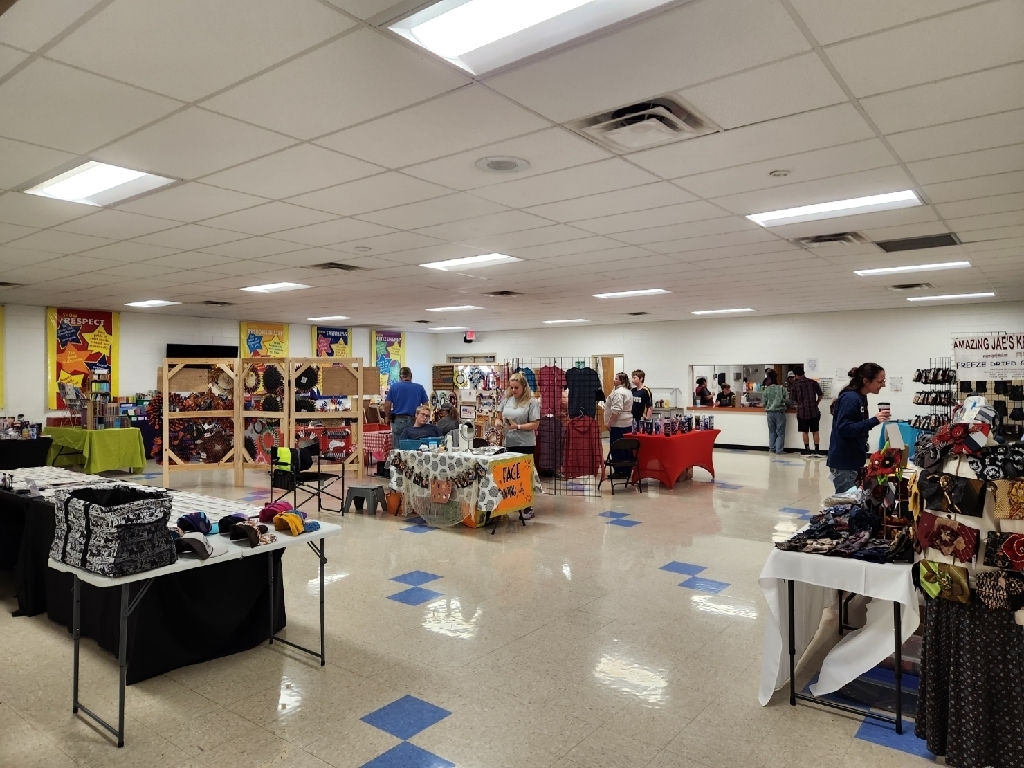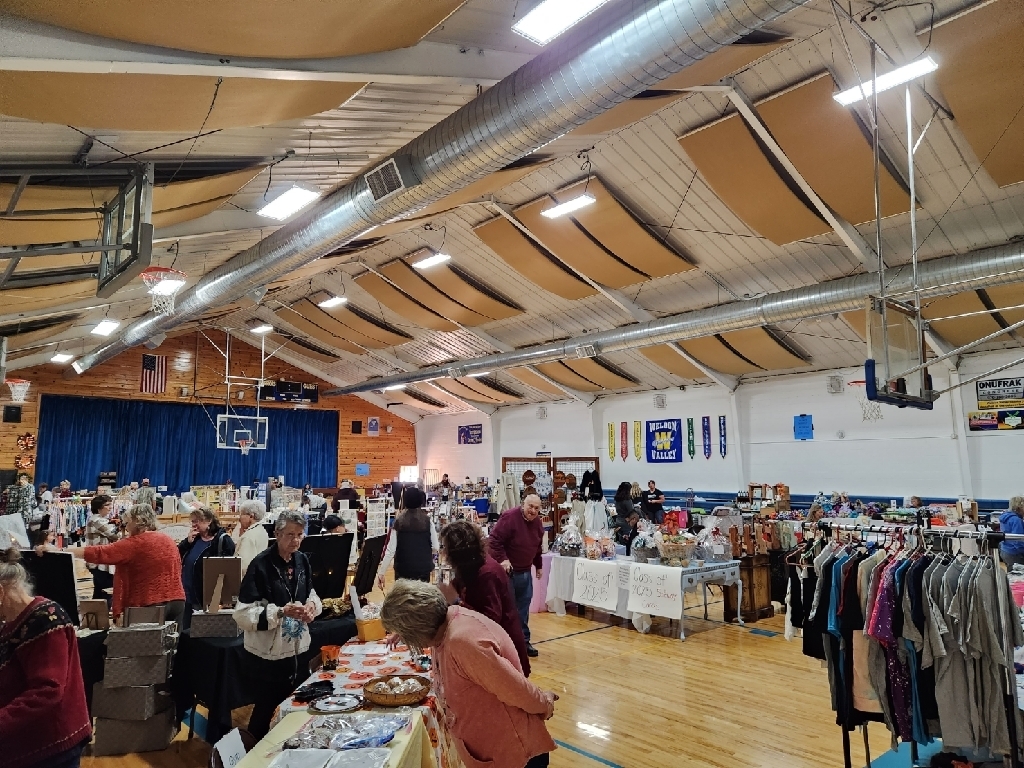 Kathy Shaver, one of our great Warriors, has suffered a house fire earlier this morning. Due to extensive smoke damage Kathy is unable to go back inside of her home at this time. Kathy is in need of daily essentials but mostly, clothing of all kinds. Pants size 12, shirts size L, socks, and more. There will be other opportunities to help Kathy and her family soon, but for now this is all we ask. If you are able to help, please drop your donations off at Danny & Marilyn Riddles home- 509 Main Street WELDONA, Co. Thank you for your love and support.

We have moved the start time of the volleyball games at Haxtun on Tuesday to 4:00 pm.  JV will start at 4 with Varsity to follow.  Thanks

Please plan on stopping by Weldon Valley School tomorrow & checking out the WV Craft & Vendor Market starting at 8:30 am. There are over 50 vendors attending, some of these vendors are our students working towards a goal. Come & get your holiday shopping done early!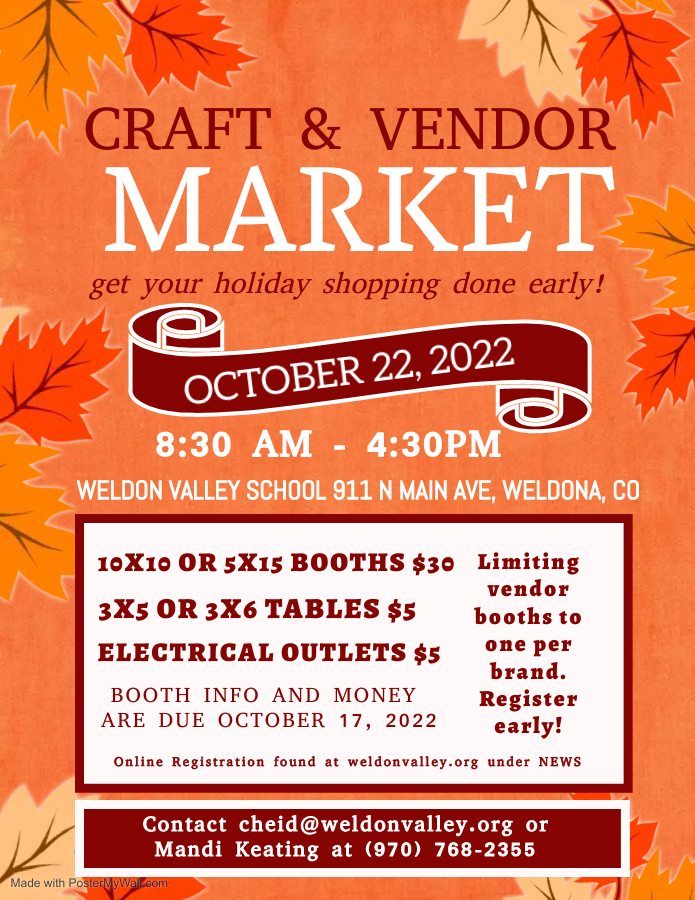 Time is approaching for the early signup deadline for our next International Trip to England and France. Be sure to register by the 22nd of this month for the discount. If you have any questions reach out to me via email:
mschmeeckle@weldonvalley.org
The trip is scheduled for June of 2024 and promises to be educational, entertaining, and life changing. Everyone is welcome! Feel free to review the travel information listed below.
https://secure.passports.com/document/225ECBC4ACDB/